The wider family of descendants of William Tress and Mary Barnes of Kent England are many. We are confining this website generally to those associated with Upchurch and Lower Halstow, Kent, England.
Your comments and contributions to our knowledge of the families is welcome.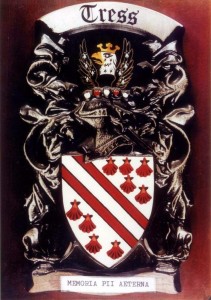 The Tress family of Kent had changed their name from Tracy adopting one of the many variations of the name which included De Traci, De Tracy, De Tracey, Tracy, Tracey, Trace, Trase, Tryse, Trise, Trese, Tresse and Tress. The family are descended from William De Tracy who was a Knight and close to King Henry 11. The De Tracys came to England from Normandy with William the Conqueror and over hundreds of years held lands in Gloucestershire, Devon and Kent and married into branches of the Royal and Noble families of England.
I have copies of both the Tress & Courtenay chart, that I believe was drawn up at the same time, and the book A Short Memoir, critically Illustrating the Histories of the Noble Families of Tracy, and Courtenay by John Tracy that was published in 1796. Two copies of the chart that have been sent to me have been added to by the families concerned, which is helpful.
I only propose on this website to go back as far as William Tress b.1715 and Mary Barnes who married at Rochester Cathedral on 14 December 1739. The Tress family, as in many families of that time, repeated the names of their children from generation to generation that is why it is important to put the year of birth with most persons of similar names.
William and Mary's eldest son, William b. 1744 married Mary Parsons and had two daughters, he later married Sarah Clifford on 7 November 1773 at St. Mary's Chatham. William and Sarah had eight children one being my Gr. Gr. Gr. Grandfather Richard Tress who was born in the village of Upchurch, Kent, England and baptised on 4 June 1782 at St. Mary the Virgin, Upchurch.
Richard Tress married Sarah (Sally) Broughton, at St. Werburgh, Hoo, Kent on 27 October, 1806 and they had three children, Mary Ann, William Richard and Sarah. Richard worked as a Shipwright at Chatham Dockyard but when work slowed as a result of the cessation of War, he decided to follow his brother-in-law, Acting Commissary William Broughton, to the new colony of New South Wales.
William and Sarah (Sally) Broughton's parents were Henry and Sarah Broughton. There is some controversy regarding Sarah Broughton's maiden name, some descendants believe that her maiden name was Sarah Self who married Henry Broughton and after Henry Broughton died she remarried to Arthur Walker and is commonly referred to as Sarah Walker, but this was not her maiden name. Other descendants believe that she was the daughter of John Walker and Ann (possibly Shaw). Although a 1739 Christening for a Sarah Walker, parents John and Ann appears as a Source on Ancestry what proof is there that it is "our" Sarah Walker?  She came to NSW with Richard and Sally Tress and was there referred to as Sarah Broughton by Governor Macquarie.
Richard Tress and his family arrived in Sydney on 11 October 1816 per Mariner as Free Settlers. It should be noted that Richard's first request for a Grant of Land in 1816, was to be in Hobart Town, Van Dieman's Land (Tasmania) as he intended to settle there, the reason being that William Broughton was living there, however, Richard changed his mind knowing that William Broughton was not staying in Tasmania. Richard was given a Grant of Land at Appin, south of Sydney, on 17 August 1819, Lot 42 being 500 acres. The family lived both at Appin and in Sydney and after Upchurch Farm at Appin was sold Richard Tress stayed in the Sydney area and died on 26 May 1844.
Richard's eldest brother, William Tress b.1774 married and some of his descendants live in Queensland, Australia.
Richard's older brother, Thomas Tress' son, Thomas Tracy Tress emigrated to America in 1841 and settled in Ohio, I have been fortunate to meet some of his descendants.
Richard's younger brother, Cooper Tress, married and his grandson, Sidney Cooper Tress, was a Principal of the well known firm, Tress Hats.
William Tress b.1715 and his wife, Mary Barnes' second son, John Tress, b.c.1751 married Lydia Rose and had five children. John and Lydia's younger son, William b.1798 married Mary Sifleet and had a large family of ten children. Many of this family settled in Lower Halstow and have had a long association with the area. One branch of their large family tree are now living in South Australia.
William Tress and Mary Barnes', third son, Thomas also married, to Eliza Daniel. William and Mary Tress' many descendants are now settled around the world.
J R Maitland (nee Reid)
Researcher and Site Author:
For updated information please now refer to our Tress-Reid-Maitland Family Tree on Ancestry http://trees.ancestry.com.au/tree/53560482/
N.B.  I would like to disassociate my approval of the method of establishing Online websites that allow for others to add to a particular family tree.  This method can lead to compromising the Integrity of the Data Base.
2016