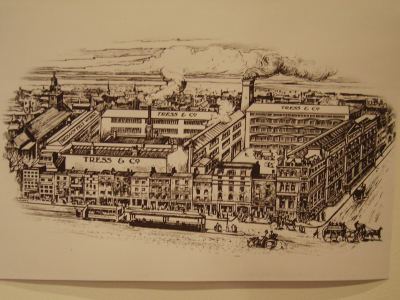 Photo Courtesy of  Rachel Heath, researcher of  the Hooper family.  Obtained from http://www.london-se1.co.uk/news/view/2139
Notes:
The Founder of the Tress & Co.  hat firm was Cooper Tress Snr. (1787-1869), son of William Tress and Sarah Clifford, of Upchurch, Kent, England. He was joined at the firm by his son, Cooper Tress Jnr. and later by Cooper Tress Jnr's sons, Sidney Cooper Tress and Herbert Charles Tress.
Patents in The London Gazette 3rd March 1863 says: 2840. and Cooper Tress, of Blackfriars Rd., in the County of Surrey, and Francois Cyrille Belhomme, of New St., Covent Garden, in the county of Middlesex, have given the like notice in repsect of the invention of "improvements in hats, caps, bonnets, and other coverings for the head." As set forth in their respective petitions, all recorded in the said office on the 21st day of October, 1862.
The company was active in England for over one hundred years being established in 1846 and finally selling to Christy's in 1953 in the neighbouring suburb of Bermondsey. They closed the Stamford St., Southwark site where today the Mad Hatter Hotel is situated.
An interesting and informative site is http://banksidethenandnow.co.uk  Bankside and Borough – Hat manufacture. The firm Tress & Co.  was very prosperous and well known throughout the world.  It was awarded Prize Medals, Paris 1855 & 1867, London 1862, Philadelphia 1876 and Sydney 1879, with the Trade Mark registered in Britain. I believe the firm was also located at Luton as well as Stamford St., London.
Acknowledgement: My thanks to Rachel Heath for the details of the Patent Notice in the London Gazette.
 These photos of  the Tress Hats are by Courtesy of the Edes family.